SDK
Common code base for the Prowide Integrator modules
The SDK library is the cornerstone of the Prowide Integrator, a set of complementary components built on top of the open source.
What's included in the SDK?
Schemas library for all SWIFT MT and ISO 20022 messages
Model and parsers for DataPDU wrappers (for SAA integration)
LAU signing and verification for both MT and MX messages
Comprehensive model for SWIFT for corporates SCORE
Customizable expanded printout for MT and MX messages (SWIFT Advice Slip)
Multipurpose BIC Dictionary
MtPath to simplify content selection in MT (FIN) messages
Professional support and early updates of the yearly SRU
Especially suited for organizations looking for reduced efforts in the implementation and maintenance of its FIN MT and ISO 20022 software infrastructure.
Prowide Integrator Modules
Complementing the SDK, each module provides specific features for standard compliance validation, MT/MX automatic translations and conversions to proprietary formats.
The package can thus be tailored to fit your own FIN MT and ISO 20022 Integration needs.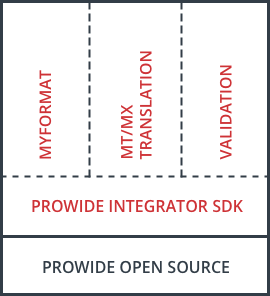 License
The Prowide Integrator is licensed software. We have a flexible pricing scheme based on your organization type and processing volume.
The Integrator library can be used both in the development of an in-house solution or if you are a vendor, embedded in a product distributed to many final customers.
Maintenance & Support
Maintenance services are provided with the software, including; technical assistance, product enhancements and SWIFT standard upgrades. Premium support options are also available by subscription.
The component is yearly updated to the latest SWIFT SRU six months prior to going live.
Get it
Give it a try
---
Looking for pricing information? Want to try the Integrator library on your premises?
Contact us indicating your company type, use case, and which modules you are interested in.