Products
SWIFT messages integration with ease.
Whatever your processing volume, we offer you a secure choice to meet your specific FIN and ISO 20022 integration needs.
open source
Prowide Core (WIFE)
Open source SWIFT Java library
For organizations looking to develop and maintain its SWIFT software infrastructure with internal resources.
Domain model for MT (FIN) messages
SWIFT MT (FIN) parser and builder API
SWIFT message conversion to XML and JSON
SWIFT message persistence
SWIFT RJE reader/writer
BIC and IBAN validation
Available source code
Professional support optional subscription
Early SRU optional subscription
API
Prowide Integrator
SWIFT message development toolkit
For organizations looking for reduced efforts in the implementation and maintenance of its SWIFT software infrastructure.
Domain model for ISO 20022 (MX) messages
ISO 20022 (MX) parser and builder API
Customizable expanded printout
Standard compliance validation
MT-MX (ISO 20022) translations
Conversion to proprietary formats
LAU signing and verification
Extensions for restricted ISO 20022 versions such as: SEPA, CBPR+ and SIC
webapp
Prowide Enterprise
SWIFT messaging platform
For organizations looking for a ready to use SWIFT message management application tailored to its own specific needs.
GUI for message archive, search and printout
AFT and MQ backoffice and SWIFT connectors
Customizable workflow and message routing
GUI for SWIFT message creation and repair
SWIFT Duplicates detection
SWIFT message Matching (SWIFT Accord)
Automatic MT-MX (ISO 20022) translations
REST API
Products FAQ
Frequently Asked Questions
How can you help us in the migration to ISO 20022?
We offer 200+ out-of-the-box translations between SWIFT FIN and ISO 20022 messages, to simplify migration during the coexistence period. Check the Prowide Integrator Translations module for details.
When are the updates for the open source available?
The updates for the latest SWIFT SRU are available in October each year, one month before SWIFT live date. Early Release subscribers get the updates in May, 5 months in advance. Check the services section for more info.
When are the updates for the commercial products available?
The updates for the latest SWIFT SRU for Prowide integrator and Prowide Enterprise are available in May each year, six months before SWIFT live date.
What's the difference between "Core-Premium" and "Integrator/Enterprise-Premium" support?
The scope of the Core support packages is the open source library. If you have a license for any module in the Integrator or Enterprise packages, support for Integrator/Enterprise gets you covered for both the open source and the licensed software. Check the services section for more info.
What's the difference between "Integrator" and "Enterprise" modules?
The Integrator SDK and its optional modules are distributed as a library, intended to be embedded in your own application. Enterprise with its modules is already a built-in application ready to be installed on your premises.
How can I report and issue?
Community users can post issues at Github and will normally get a response within a couple of days. Support customers get private and prioritzed attention through a Jira customer portal.
What Java version is required?
The minimal Java version requirement since the release for SRU2019 is Java 8.
Open Source Core component
We conceive our products as a composite of reusable components where each product is built on the basis of another.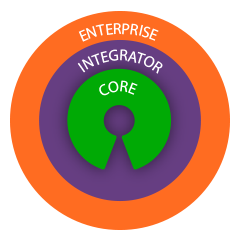 The central component Prowide Core is an open source Java framework for managing SWIFT messages. The project (previously known as WIFE) is active since 2006, production ready and commercially supported.
On top of the open source library, we have two commercial complements:
Prowide Integrator

which is also a library and provides additional API.

Prowide Enterprise

which is a full-stack application, with a ready to use user interface.
Modular Design
Both Prowide Integrator and Prowide Enterprise are composed of a basic package plus a range of optional modules. They can thus be tailored to fit your own SWIFT Integration needs with a reduced TCO, whatever your processing volume.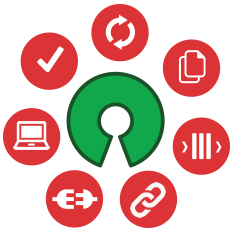 Open Source core
Unique feature offering you the benefits of auditability, reliability and no hidden lock-ins.
Standard Compliance
Supports all messages from both FIN MT (ISO 15022) and MX (ISO 20022) standards.
Lower Maintenance Costs
By localising SWIFT standards maintenance into a single software package.
Get it
Prowide CORE early
release subscription
---
Looking to begin early on with testing the new SRU (SWIFT Standard Release)? Then subscribe to the early release update and begin testing already by the end of May, each year.
Don't wait for the public release in October and save 5 months of waiting time.
Early Release
Want to know more about it? Click on the button
Featured Customers

Many customers trust our products and services for their SWIFT solutions.
Grow revenue. Achieve lower stable cost structures. Be resilient.